If you're looking for something to enjoy the weekend without breaking the bank, we have great news! We have prepared a list of 10 amazing games that can be redeemed and enjoyed for free on PC, console or mobile.
They are games of different genres and styles, from strategy and simulation to action and combat. There is something for all tastes and all ages! Want to know what they are? So check out our selection below and get ready to have some fun!
1. Train Valley 2 (PC)
This game is a sequel to the famous train valley, which mixes railway construction, resource management and logic challenges. Here we can create our own rail network, connect cities and industries, and transport passengers and goods.
Moreover, the title also has an online cooperative mode, which allows you to play with friends or with other players from all over the world. But better, because this offer is for a limited time: you have until July 20 to redeem the game on the Epic Games Store and keep it forever in your library.
2.Team Fortress 2 (PC)
Team Fortress 2 is an FPS that mixes action, humor and strategy. It is free and has a loyal community of fans. Recently, the game received a giant update which brought new maps, modes, weapons, and cosmetic items. The update also fixed several bugs and improved performance.
3. Prison Architect (PC)
prison architect is a simulation and strategy game that puts players in the role of a prison administrator. In it, it is possible to build and manage the penitentiary itself, from the foundation to the routine of the inmates. Moreover, it offers several game modes, such as story, escape, island and online.
Another interesting detail is the possibility of customizing the construction with different objects, buildings, services and security. The player can also face the challenges of dealing with riots, breakouts, fires, gangs and much more.
prison architect it's free on Steam until July 17, so take advantage of the opportunity and download this amazing game now!
4. Super Mega Baseball 4 (PC)
Anyone who likes sports games with a touch of humor will love this Super Mega Baseball 4. It's a baseball simulator that lets you create your own team, customize players, and play games online or offline. The game has cartoonish graphics, realistic physics and an adjustable difficulty system. Trading is free on Steam until July 17.
5. Naraka Bladepoint (PS4, PS5, Xbox One, Xbox Series X/S and PC)
Naraka Bladepoint is an action-adventure experience that mixes elements of battle royale, parkour, and martial arts. It was released two years ago but is now available for free on all platforms.
In the game, you can choose from multiple characters, each with unique skills and weapons, and compete against other players in adrenaline-filled online matches.
6. Warlander (PS5, Xbox Series X/S and PC)
Warrior is an action-adventure title in which we control a warrior seeking revenge against the god of death. The game combines elements of RPG, hack and slash, and roguelike, creating a unique and challenging experience.
It is possible to explore a dark and mystical world, face varied and powerful enemies, and collect artifacts and abilities that increase the power of the character. Moreover, it also has a dynamic and visceral combat system, in which you can slash your enemies in different ways, using your magic sword.
7. Killer Instinct (Xbox One and Xbox Series X/S)
killer instinctthe legendary fighting franchise, is back in 2013 with a fresh new look, unbridled action, a wild cast of fighters and a superb soundtrack.
The game features an open combat system that allows users to rack up huge combos while the opponent looks for openings to smash them and turn the tables. Moreover, it also gives you the opportunity to compete online against people around the world or improve your skills with tutorials and smart AI.
8. Cookie Run: Kingdom (Android and iOS)
Cookie Run: Kingdom is a base building RPG developed by Devsisters Corporation. In it, players embark on exciting adventures with lovable characters known as Cookies. Each has unique abilities and distinct personalities.
Players are challenged to build and expand their own Candy Kingdom while facing enemies in exciting battles. Whether it's creating the kingdom of dreams or fighting against the forces of evil, the title offers a fun and captivating gaming experience.
9. My Singing Monsters (PC, Android, and iOS)
My singing monsters is a fun experience that lets you create and collect musical monsters. In it we can explore different islands, each with its own theme and style, and discover new species of monsters that sing, dance and play instruments.
You can also customize the monsters with clothing, accessories and decorations, and even create your own musical compositions. The game is full of humor, charm and surprises, and is ideal for anyone looking for something laid back and relaxing.
10. Pet Restaurant (Android and iOS)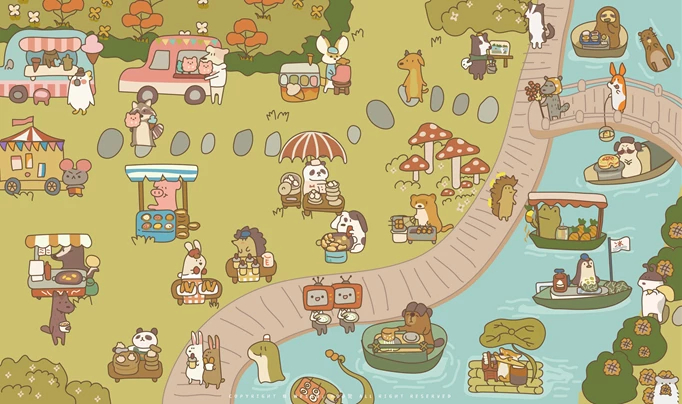 Source: DH-publisher
Animal restaurant is an adorable and soothing simulator in which we will manage a restaurant frequented by super cute animals. It allows players to decorate the place as they wish, hire a variety of company characters as employees, and expand the business to attract more customers.
Each little creature has its own story and personality, adding an element of charm and depth to the title.